Springs Branch Track Work
Disconnection Boxes
As Graybar continue to widen their collaboration and partnership with Network Rail, we were given the challenge in helping out at short notice with the design, manufacture and delivery of two WM/WC Point Machine Dis Boxes, a task we were equal to and more than happy to assist with, below is a summary of both Network Rail and GrayBar's brief, proving that no matter how small or large the project, they can give you equal satisfaction in delivering a quality product, resulting in an equally impressive installation!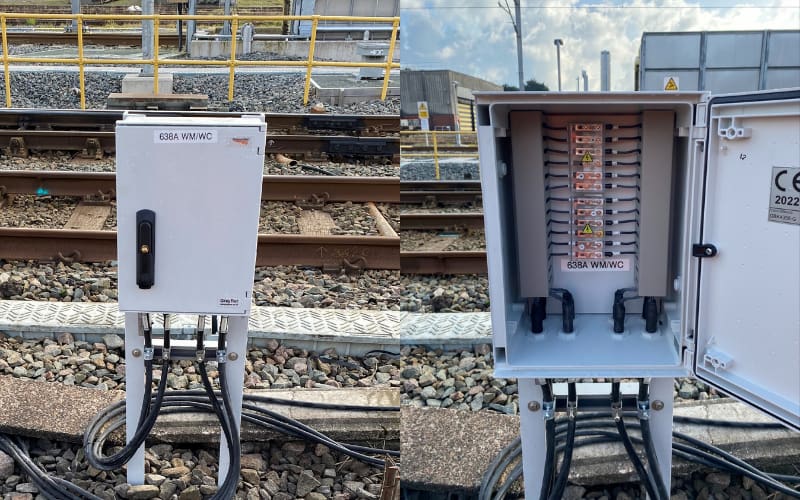 Project: Springs Branch Track work.
Product: GBK4356-G GRP WM/WC Point Machine Dis Box.
Delivered by: Network Rail Works Delivery Unit.
Installation of 2 new Dis Boxes for 63 style Point Machines which were being renewed as part of a replacement points panel, for Point Numbers 638A and 638B.
Pads Approved GRP Enclosure to accommodate a total of 2 x 2BA Terminal Blocks, Links, Covers, 50x75mm Betaduct and 8x25mm Nylon PADS Approved Compression Glands for the following cables:

4 x 2 Core C2 06/120140
4 x 4 Core C2 06/120141

Fitted to a PADS Approved full GRP Mounting Assembly c/w Cable Bar (no bonding required)
Due to timescale and a combination of GRP Enclosures and 2BA Terminals, Links and Covers were utilised.
Designed, built and delivered in 5 working days.

If you would like to learn more about GrayBar's comprehensive range of GRP Disconnection Boxes, Mounting Assemblies and Accessories for all applications contact Mark Challinor at [email protected] or 07860 931516

GrayBar offer design, production and supply of track heating systems, enclosures and accessories for the rail industry.
We have an impressive portfolio of products that have received PADS approval from Network Rail.