Control Cubicle Design for Self-Regulating Point Heating
Self-regulating point heating systems can make use of the benefits of an integral design of control cubicle, containing individual contactors, internal 100 volt transformers, secondary circuit protective devices and simple, reliable weather monitoring devices.
The GrayBar integral control cubicle has been successfully functionally tested in an environmental chamber with the air temperature reduced to -25°C. It has also been fully EMC tested to ensure that our cubicle doesn't emit a large amount of electromagnetic interference (known as radiated and conducted emissions).
This design of heating system control enables the maintenance engineer to locate all the supply circuit components within a single enclosure, thus avoiding the safety hazard of walking the trackside to maintain individual trackside oil filled transformers.
In addition the life of the control cubicle, circuit components and associated dry type transformers is extended to 25 years (note: jelly filled trackside transformers may have a shorter service life performance due to the effects of contamination).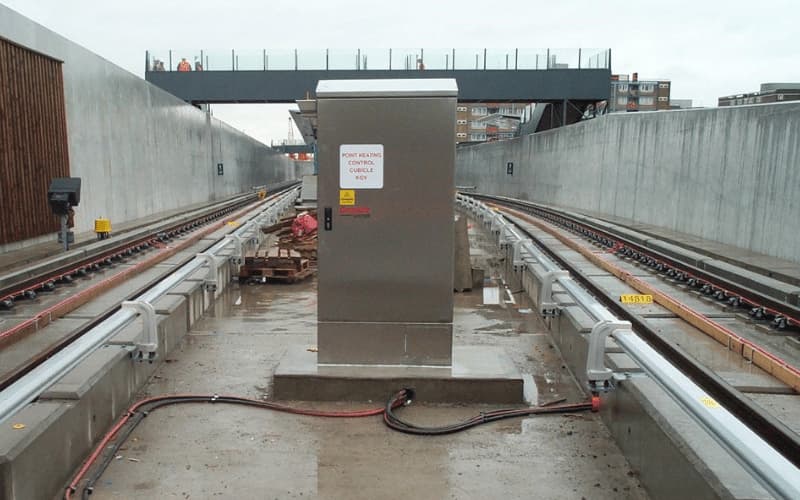 Within the control cubicle, the following are housed:
an isolator on the incoming power supply
a contactor to control each integral transformer
an override switch
primary & secondary circuit protective devices
primary & secondary 'healthy' circuit lamp indication
hours run meter
cable entry glands
multiple earth bonding
thermostatically controlled internal cubicle heating
identification labelling
space envelope for Remote Condition Monitoring
Life expectancy of 25 years
IP66 rating
Tested to -25°C
Individual contactor per transformer, high quality internals and space envelope for RCM included
Self-Regulating Point Heating Integral Trackside Control Cubicle
The Control Cubicle is supplied complete with all switchgear, weather monitoring units and integral panel wiring and should be installed on a suitable, level, concrete base. The control cubicle enclosure must be located at least 3.5m from the nearest running rail and situated in a safe location to provide access for maintenance. Safe recess areas should not be obstructed.
A sealing compound should be applied between the enclosure and the concrete base to prevent ingress of water.
The weather monitoring control unit temperature sensors and snow detector form an integral part of the control cubicle enclosure and should be located where they can accurately monitor the weather conditions. Care should be taken to avoid locating the control cubicle where it may be protected from the elements e.g. bridges.
Due to the vulnerable nature and unreliability of rail temperature probes, the use of these devices is not recommended and, with self-regulating point heating systems, rail temperature probes are not necessary because the heater element itself 'reads' the rail temperature along the length of the heater element.
Control Cubicles - Technical

Stainless Steel Control Cubicles

Part Reference

PADS No.

Part Reference

Description

Cubicle Size (mm)

GB/AR1/1

055/020803

Single Phase 1 Transformer Stainless Steel Control Cubicle

970 w x 2050 h x 542 d

GB/AR1/2

055/020804

Single Phase 2 Transformer Stainless Steel Control Cubicle

970 w x 2050 h x 542 d

GB/AR3/2

055/020805

Three Phase 2 Transformer Stainless Steel Control Cubicle

970 w x 2050 h x 542 d

GB/AR1/3

055/020806

Single Phase 3 Transformer Stainless Steel Control Cubicle

970 w x 2050 h x 542 d

GB/AR3/3

055/020807

Three Phase 3 Transformer Stainless Steel Control Cubicle

970 w x 2050 h x 542 d

GB/AR3/4

055/020808

Three Phase 4 Transformer Stainless Steel Control Cubicle

970 w x 2050 h x 542 d

GB/AR3/5

055/020809

Three Phase 5 Transformer Stainless Steel Control Cubicle

970 w x 2050 h x 542 d

GB/AR3/6

055/020810

Three Phase 6 Transformer Stainless Steel Control Cubicle

970 w x 2050 h x 542 d

GB/AR3/7

055/020811

Three Phase 7 Transformer Stainless Steel Control Cubicle

970 w x 2050 h x 542 d

GB/AR3/8

055/020812

Three Phase 8 Transformer Stainless Steel Control Cubicle

970 w x 2050 h x 542 d